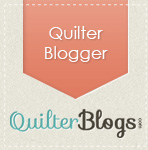 Do you have a lot of quilter blogs bookmarked or subscribed to their feeds or 'follow' them. Well make it easier on yourself and go to
Quilter Blogs
!
If you have RSS Feeds you follow, include this one or make it your only one. I subscribe to the
Quilter Blogs RSS Feeds
and it's an easy way to visit hundreds of blogs at once!$
Bonus features of their comprehensive site:
This site is great! Go on over there and Enjoy!
*hugs*
Jackie
Disclaimer: "Feature Friday" is solely my opinion about a webspace online that pertains to the quilting hobby. I am not paid, compensated, or gifted by any of the "Features" posted here. I am a Quilter with an Opinion and Desire to SHARE Resources I use for my hobby :)